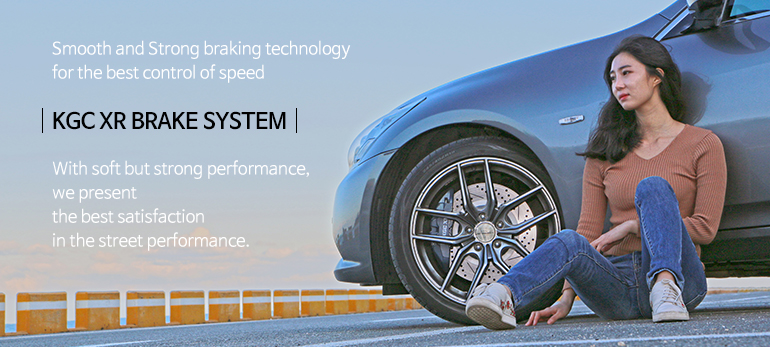 M CLASS

MONOBLOC BRAKE CALIPER
Smooth and strong braking technology for the best control of speed
| | | |
| --- | --- | --- |
| | | |
| | M-Class: This is a light-weight, high-performance brake caliper product line that has been patented in Korea, the United States, China, and Taiwan. | |
| | | |
● ● ●
Design the Technology
| | | |
| --- | --- | --- |
| | | |
| | | By fusing the beauty of straight lines and curves with technology such as structural rigidity, fatigue strength, heat dissipation and bridge pipe insert technology, the value of ownership is added. |
Smart High Strength Structure with Radiant Heat
| | | |
| --- | --- | --- |
| | | |
| | | It is a smart design that combines high performance, heat dissipation, rigidity and durability in a harmonious combination of straight lines and curves, and is effective against high pressure and heat from braking. |
Light Weight Aluminum Alloy Mono Block
This is the most preferred monobloc type brake caliper for high-performance automobiles.
Monobloc, a single body calipers which have excellent structural rigidity and performance are optimal for light weight and high performance brakes with excellent structural rigidity and performance.
Optimized hydraulic pressure line for safety and performance
By inserting the bridge pipe connected with the facing cylinders into a built-in shape, there is no risk of rupture,
corrosion or leakage of the exposed pipe,
and the efficient brake fluid line optimizes
the pedal effort and control function.
Ventilated Stainless Steel Piston
| | | |
| --- | --- | --- |
| | | |
| | | The stainless steel piston has a low thermal conductivity of about 1/10 compared to aluminum, and the heat transfer ratio to the inside of the caliper is low, and the air cooling effect through the heat dissipation design suppresses vapor lock. |
Dome Back Stainless Steel Piston
| | | |
| --- | --- | --- |
| | | |
| | | High-strength stainless material with excellent corrosion resistance and heat resistance and a dome structure with excellent torque transmission provide high braking force and quick response. |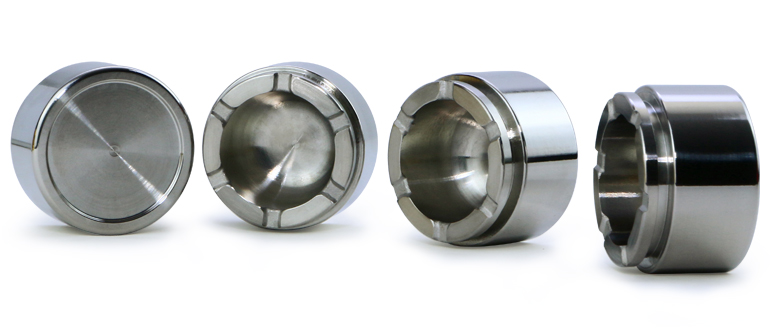 dust cover

Brake calipers for the public road require long-term durability in various environments.
The dust cover located at the inlet of the cylinder suppresses the inflow of pollutant into the cylinder, prevents the caliper from deteriorating performance and shortening its lifespan.
pad spring

Appropriately elastic pad spring suppresses pad vibration and noise and alleviates the interference between disc and pad that occurs in deep corners and rough ground.
heat resistance & anti-corrosion finishing
High heat-resistance powder coating and clear on anodizing to enhance corrosion resistance and enhance appearance.
The basic colors are coral red with pink, refreshing banana yellow and a dark gray indigo aura with a hint of celadon color.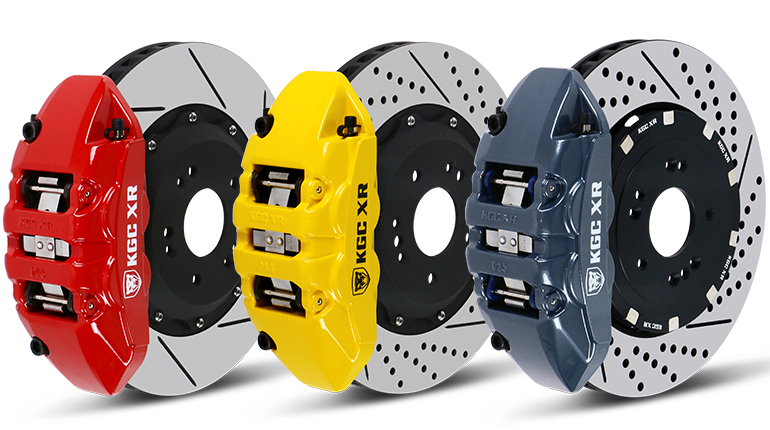 Korea's patented brake technology
| | | |
| --- | --- | --- |
| | | |
| | | The monobloc calipers of KGC are 'MADE IN KOREA' brakes that have been patented in Korea, the United States, China and Taiwan, and have also obtained tuning parts certification in accordance with the Vehicle Administration Law. |