S CLASS

HIGH PERFORMANCE BRAKE PAD
Smooth and strong braking technology for the best control of speed
| | | |
| --- | --- | --- |
| | | |
| | S-Class: It is a product range of brake pad for M-Class. It has the merits of soft but strong braking performance, low disk aggression and reasonable price. | |
| | | |
● ● ●
High Braking Force in Practical use

S-class is the sports pad that demonstrates high performance in a driving condition on general road.
The higher the performance of friction material and the response to high temperature are, the noise and brake sensitivity become less. S-Class focuses on the braking performance of actual use on public roads driving.
Compared to the pad for track, KGC XR S class pad and FERODO DSUNO have Mu 0.48 both, but the performance of KGC XR S is higher in Actual use at around 300℃ (for the average friction coefficient at 200~500℃). The performance of DSUNO is higher even at ultra high temperature at 200~700℃.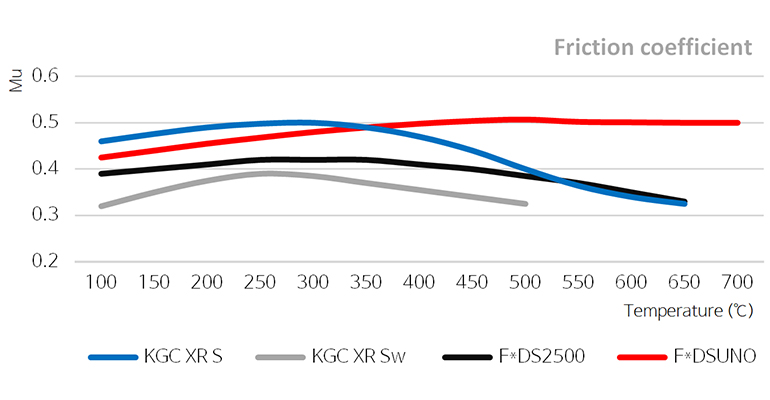 Suppression of Noise and Vibration
NVH
| | | |
| --- | --- | --- |
| | | |
| | | It is a kind of sports pad for roads focusing on the performance but for more convenient dynamic driving, we have made a continuous effort for the reduction of N.V.H (noise, vibration, harshness). |
Heat Resistance Coating

The oxy-nitriding and heat resistance coating of back plate suppresses the corrosion and the solidification of dust to raise the smooth operation of the pad.
Reasonable Price

It enables the best performance in practical use with high friction force of sticky sensitivity but also its reasonable price adds the satisfaction.
Verified Product Quality

We have been manufacturing S class pad through OEM supplier, the professional company for friction materials who started with FERODO's technical support and capital joint venture.